Real Madrid striker Karim Benzema was tried in France accused of complicity in an attempt to blackmail fellow footballer Mathieu Valbuena over a sex tape found on his phone.
He ridiculed the accusation against him as a "masquerade" and did not appear in the court of Versailles.
The case dates back to June 2015, when the two players were on retreat in France.
The saga rocked French football and both players lost their places in the team.
Karim Benzema, 33, has since returned to France and scored in Real Madrid's victory in Kyiv on Tuesday in the UEFA Champions League.
He is on trial with four other men accused of attempting to blackmail Valbuena, who told the court on Wednesday that football was his life.
"I knew that if that video came out it would make things difficult with the French team," he said.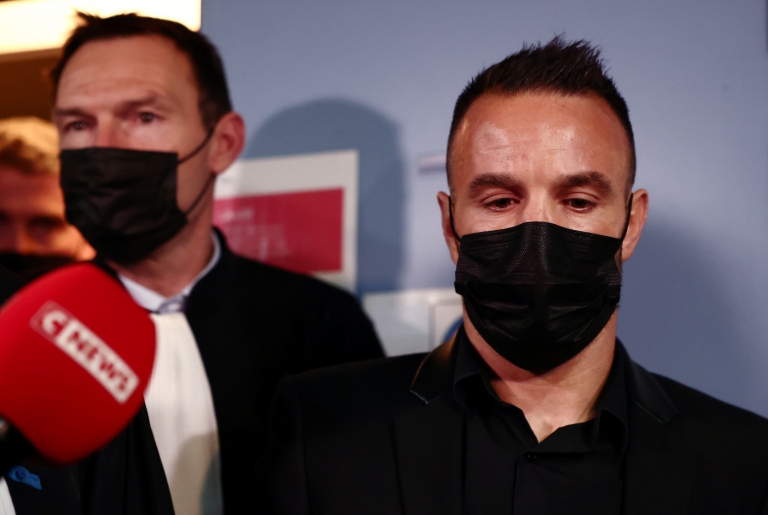 Reuters
I see they're all here – almost. Karim no, which is a shame. But we'll go all the way: this has been going on for six years and we're here for as long as it takes to put it behind me
The sex tape case began in 2015 when Mr. Valbuena, now 37, asked a Marseille man, Axel Angot, to upload his mobile phone contents to a new device.
Mr. Angot found sexually explicit material on the phone, and he and another defendant in the trial, Mustapha Zouaoui, are then accused of attempting to blackmail Mr. Valbuena by threatening to make the tape public.
Mr. Zouaoui told reporters that he shared the tape, but there had never been an attempt to extort money.
Mathieu Valbuena said he was approached by another defendant, Younes Houass, who then told the court that the player was acting as if nothing had happened and had warned him of the seriousness of the matter, without asking for money.
When the footballer went to the police, an undercover agent named Luka was tasked with negotiating on his behalf.
The defendants are accused of having approached a childhood friend of Mr. Benzema named Karim Zenati.
Then, in October 2015, the Real Madrid striker approached his French countryman in his room when he retired.
Mr. Benzema said he simply tried to help his teammate get rid of the compromising video, warning him, "Be careful, Math, they're big, big thugs."
He then offered to put him in touch with someone he could trust: his childhood friend, Mr. Zenati.
Valbuena talks about the Benzema 'conspiracy'
Breakthrough of Benzema in the case of the sex tape
The police were eavesdropping on their phone calls and recorded Mr. Benzema saying to his childhood friend: "They don't take us seriously."
Zenati is said to have replied: "We're here to fix it, if he doesn't want to, he'll have to deal with piranhas."
Meanwhile, Valbuena is said to have already told her family about the footage on her phone.
Giving evidence early in the trial, Mathieu Valbuena said he never considered handing over money to prevent the video from being released.
Defense attorneys have already argued that the police made a mistake in using an undercover agent and that the officer pushed the defendants to ask for money. But French courts dismissed lawyers' objections to police methods in 2018.
The trial will continue until the end of the week, with four defendants accused of attempted blackmail and Karim Benzema accused of complicity.
The maximum penalty for complicity in the attempted blackmail is five years' imprisonment and a fine of 75,000 euros (63,000 pounds).
Read More about World News here.
This Article is Sourced from BBC News. You can check the original article here: Source